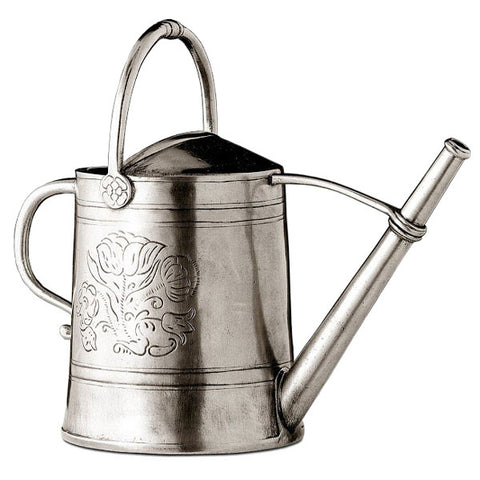 Anemone Watering Can - 24 cm - 1.75 L - Handcrafted in Italy - Pewter
This pretty pewter watering can not only looks lovely, with its floral embossed motif, but it is an iconic design, where proportion and balance are important.  
Buying as a gift? Why not make it even more special with our engraving service?
As a handcrafted watering can made from pewter, it is solid and substantial, so can be tilted without spilling; the spout is narrow to allow only a controlled flow of water, as not to engulf a plant, and there are top and back handles to allow two-handed carrying, as water is always surprisingly heavy.
Watering cans have been around since the 17th Century, although the forerunner to the watering can - the watering pot - has been around since the 16th Century, albeit they were rather crude pots with holes in the bottom, and it took another century before the spout was invented. However, ever since humans have cultivated plants we have needed to be able to hand-water and succour them using some kind of vessel.
Cosi Tabellini's specialist craftsmen have recreated this classic garden and house-plant tool - one of modest proportions to enable light gardening, inside and out. In the days of hoses and automated sprinkling systems, a watering can is rather charming and quaint; it touches the soul and evokes a spiritual connection of nurturing and tending to your plants - the stream of water pouring out of the spout can also be viewed as a symbol of life, salvation and renewal. 
This pretty watering can is also available without the decoration for those who prefer a plainer design. Please enquire for details.
Size: 24 cm
Volume: 1.75 L
Weight: 1,530 g
Materials Used: Pewter
Ref: CT0084101
Designers: Enrico Cosi & Sergio Tabellini
100% Lead Free
All Cosi Tabellini Pewter is 100% lead-free, so it is totally food & drink safe, and is both EU and US FDA approved.
Packaging
Cosi Tabellini pieces come gift-boxed with a guarantee card and instructions on how to care for pewter.