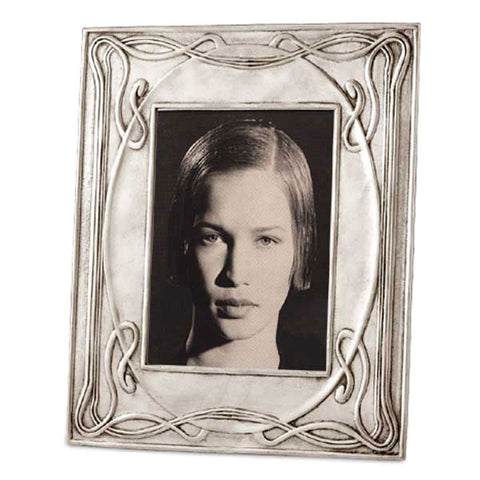 Art Nouveau-Style Luigi Rectangular Frame - 23 cm x 27.5 cm - Handcrafted in Italy - Pewter
As seen in the feature film 'Casper', this pretty rectangular frame is in the Art Nouveau style - striking in its paradoxical ornate simplicity, exalting the picture within.
Buying as a gift? Why not make it even more special with our engraving service?
The Art Nouveau-Style Luigi Rectangular Frame is made from a special type of pewter, known as Britannia Metal; its soft muted shine suits the fluid style of Art Nouveau-inspired pieces.
Be it a friend, family, child or lover, this gorgeous frame never usurps the image it contains, but simply supports and enhances it; special and precious as it is to you. 
This frame is complemented by a smaller version in the same pretty style.
Size: 23 cm x 27.5 cm (photos 12.5 cm x 16.5 cm)
Weight: 1130 g
Materials Used: Britannia Metal (Pewter)
Ref: CT0087001
Designers: Enrico Cosi & Sergio Tabellini
Further Reading: Cosi Tabellini Art Nouveau-Style
100% Lead Free
All Cosi Tabellini Pewter is 100% lead-free, so it is totally food & drink safe, and is both EU and US FDA approved.
Packaging
Cosi Tabellini pieces come gift-boxed with a guarantee card and instructions on how to care for pewter.