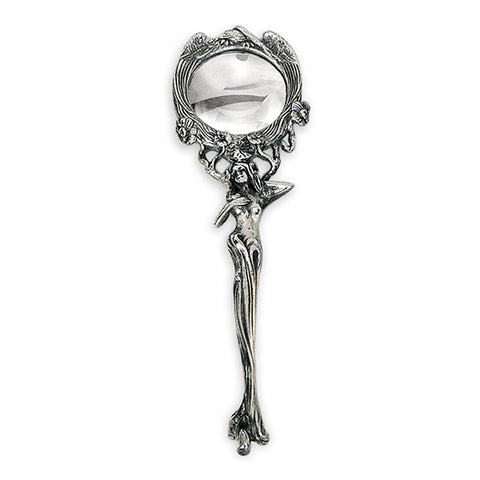 Art Nouveau-Style Ninfa Magnifying Glass - 18 cm Length - Handcrafted in Italy - Pewter/Britannia Metal
Art Nouveau-style Ninfa magnifying glass embellished with stylised floral motifs, with an exotic handle in the shape of a naked femmes-fleur with flowing hair extending to the tip of the handle.
Art Nouveau-style pieces manufactured today by Cosi Tabellini are hand-made in Britannia Metal, a pewter-type alloy favoured for its silvery appearance and smooth surface, and commonly used during the Art Nouveau period.
A classic instrument of magnification, this pewter magnifying glass, handcrafted by Italian pewter craftsmen, is the perfect addition to a desktop, enabling the reading of small-print, as well as being a useful paperweight. It is the perfect gift for anyone who enjoys authentic and traditional objects.

The pewter handles of our magnifying glasses are attached using a special technique: the molten pewter is directly cast onto the lens to form what is really a single element in which the "hardness" of the glass of the lens discreetly dissolves into the "soft" surface of the pewter handle.
Size: 18 cm 
Materials Used: Britannia Metal (Pewter), Glass
Ref: CT0299490
Designer: Achille Gamba
Further Reading: Cosi Tabellini Art Nouveau-Style
100% Lead Free
All Cosi Tabellini Pewter is 100% lead-free, so it is totally food & drink safe, and is both EU and US FDA approved.
Packaging
Cosi Tabellini pieces come gift-boxed with a guarantee card and instructions on how to care for pewter.