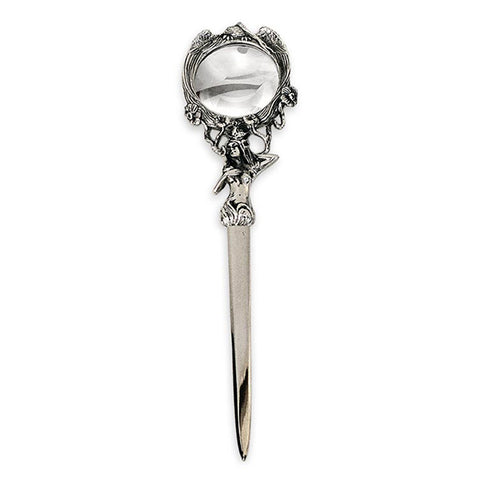 Art Nouveau-Style Ninfa Magnifying Glass & Letter Opener - 21 cm Length - Handcrafted in Italy - Pewter/Britannia Metal
Art Nouveau-style Ninfa magnifying glass & letter opener embellished with stylised floral motifs, with an exotic handle in the shape of a naked femmes-fleur with flowing hair.
Art Nouveau-style pieces manufactured today by Cosi Tabellini are hand-made in Britannia Metal, a pewter-type alloy favoured for its silvery appearance and smooth surface, and commonly used during the Art Nouveau period.
This hand-crafted pewter and stainless steel letter opener, also known as a paper knife, is an iconic design, with the added practical addition of a magnifying glass. The pewter handle of the letter opener is made using a special technique: the molten pewter is directly cast onto the steel tip of the knife; this process forms what is really a single element in which the "hardness" of the steel discreetly dissolves into the "soft" surface of the pewter handle, more suitable for contact with the hands. At the same time the molten pewter is directly cast onto the lens, so that the glass seamlessly merges into the "soft" surface of the pewter handle. 

Size: 21 cm 
Materials Used: Britannia Metal (Pewter)
Ref: CT0299580
Designer: Achille Gamba
Further Reading: Cosi Tabellini Art Nouveau-Style
100% Lead Free
All Cosi Tabellini Pewter is 100% lead-free, so it is totally food & drink safe, and is both EU and US FDA approved.
Packaging
Cosi Tabellini pieces come gift-boxed with a guarantee card and instructions on how to care for pewter.