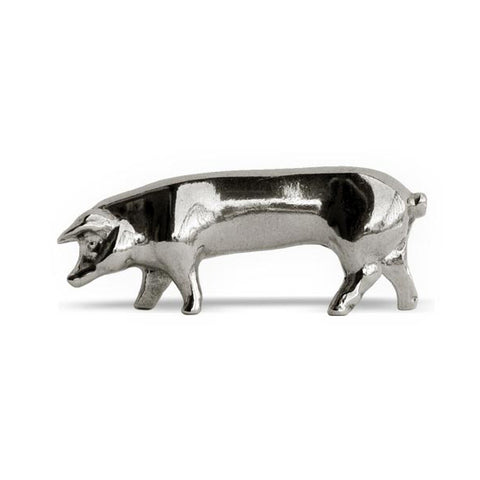 Art Nouveau-Style Porcellino Pig Knife Rest - 7 cm Length - Handcrafted in Italy - Pewter
This pretty pewter Art Nouveau-style Porcellino pig knife rest, handcrafted in Italian pewter by highly skilled 'pewterers', is practical as well as pretty, and finishes a properly appointed table, perfectly.
Knife rests are the essence of fine dining, adding a touch of glamour and ritual to the table-top. Dating back to the 16th Century and the court of Henry VIII when they were made of wood, modern knife rests are more likely to be made of metal for ease of cleaning. Knife rests are tableware accessories that protect the table and stop a dirty knife, or fork for that matter, from messing the table-top or staining the tablecloth. It was a popular European tool, with the French naming them the grand sounding porte-couteaux, however the Chinese have a similar tool; chop-stick rests.
Size: Length 7 cm, Height 2.5 cm
Materials Used: Britannia Metal (Pewter)
Ref: CT2600801
Designer: Reproduced by Achille Gamba
Further Reading: Cosi Tabellini Art Nouveau-Style
100% Lead Free
All Cosi Tabellini Pewter is 100% lead-free, so it is totally food & drink safe, and is both EU and US FDA approved.
Packaging
Cosi Tabellini pieces come gift-boxed with a guarantee card and instructions on how to care for pewter.