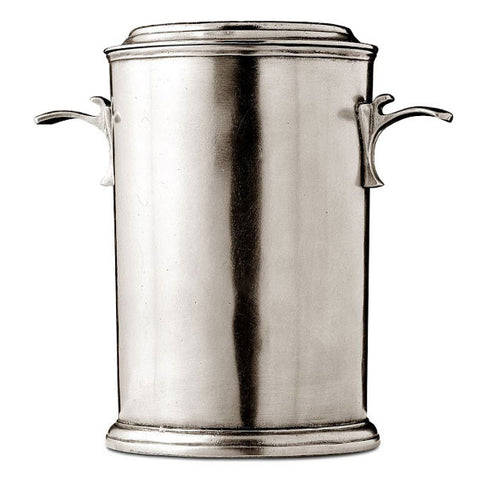 Asti Wine Cooler - 20.5 cm Height - Handcrafted in Italy - Pewter
Handcrafted by artisans in Lombardy, the Asti Pewter Wine Cooler, with stylish solid handles, is the ideal wine accessory to serve perfectly chilled wine.
Buying as a gift? Why not make it even more special with our engraving service?
The use of a wine cooler for chilling white wines to release their full bouquets, providing a crisp and refreshing flavour, is well documented, but in fact the wine cooler can also be applied to red wines. The benchmark for controlling red wine service was that it should be served at room temperature, but that was in the past, before central heating, where room temperatures averaged around 17ºC, not the a-little-too-comfortable mid-20s that we typically enjoy today. So to enjoy reds at the proper temperature, you really need to act in a counterintuitive manner, by chilling them slightly to bring out the fruit and de-emphasise the tannins.
As a rule of thumb, the following are guidelines for serving wine at the correct temperature:
Sparkling wines & young, sweet white wines: 5ºC to 10ºC

Most white wines: 6ºC to 12ºC

Full-bodied white wines: 10ºC to 13ºC

Light red wines: 10ºC to 16ºC

Medium-bodied red wines: 13ºC to 18ºC

Full-bodied red wines: 17ºC to 20ºC
One option for cooling wine is to use a refrigerator, but this can take a long time to cool sufficiently, which isn't practical for an impromptu drinks evening, and the alternative, placing the bottle in the freezer, is a high-risk solution if left forgotten, resulting in a cracked bottle. A quicker, and more elegant way, is to use a wine cooler. Stand the bottle in the cooler, and half fill with ice, preferably crushed, and top up with cold water. Red wines should take between five and ten minutes to chill to the correct serving temperature, and white wine between fifteen and twenty minutes. These times can be speeded up by twirling the bottle regularly so all the wine comes into contact with the cool sides of the bottle through centrifugal force, and also adding rock salt to the water/ice mixture can reduce the temperature further.
Chilling wine is a practice that dates back to 1700 BC Israel, where large wine storage vessels have been unearthed in ancient wine cellars. Portable wine coolers date back to Ancient Greece, whereby a psykter, a mushroom-shaped pottery vessel filled with wine, would be placed in a larger pottery vessel, a krater, filled with snow to cool down the wine.
Over the centuries, wine coolers took on various forms, one of which was the Cellaret in the 16th Century to accommodate the early glass wine bottles, and were tubs of stone, marble, metal and earthenware. By the 18th Century, the Cellaret had evolved into ornate wooden table-like cabinets designed to store wine bottles in metal-lined cavities, filled with iced water. As sideboards became more popular, Cellarets began to decline, and the use of bucket-shaped containers, such as ice pails, coolers and cisterns became more widespread, although the latter would have stood on the floor. Ice pails were very fashionable amongst the nobility and aristocracy throughout Europe in the 17th and 18th Centuries, and are the forerunners to the wine coolers in the cylindrical form with ringed handles that we are familiar with today.
Size: Height 20.5 cm, Diameter 9 cm
Materials Used: Pewter
Ref: CT0107501
Designer: Alberto Tabellini
100% Lead Free
All Cosi Tabellini Pewter is 100% lead-free, so it is totally food & drink safe, and is both EU and US FDA approved.
Packaging
Cosi Tabellini pieces come gift-boxed with a guarantee card and instructions on how to care for pewter.