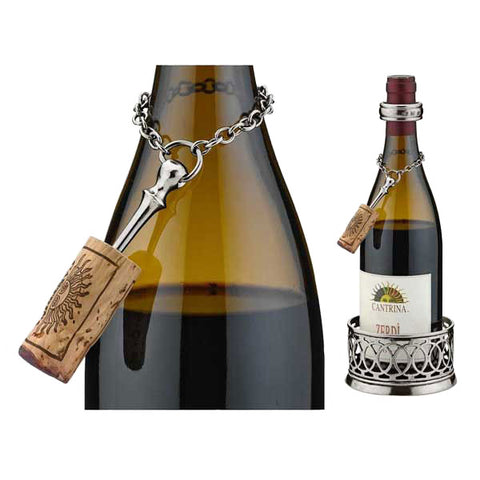 Bellevue Bottle Stopper Holder - Handcrafted in Italy - Pewter
To many, the wine drinking experience wouldn't be complete without the use of a cork - the 'pop' sound of it being pulled creates a sense of anticipation that cannot be re-created with a screwcap.  
Of course, in the absence of a companion to finish the entire bottle in an evening, drinking in moderation means our thoughts must turn to how to save the remainder for another day without it degrading from being exposed to air and oxidation, with the wine losing its aroma and flavour and appearing overly sour or acidic.  
Wine experts agree that the best solution to storing an opened bottle of wine to extend its life is to cork it with a very tight-fitting stopper to prevent further oxidisation from taking place, and to place the bottle in a refrigerator; reds can be removed a few hours before serving to bring it up to room temperature.  Using the original cork is the favoured choice by many, and to ensure the cork doesn't get lost or mixed up with other corks, the pewter Bellevue Bottle Stopper Holder is an elegant solution to insert into the cork and place around the neck of the bottle, until it is ready for storing. 
How the wine holds up after initially being opened will depend on many factors, but its age is one of the most important; an aged wine will be more fragile than a younger, sturdier wine, so it will be expecting too much to expect a vintage wine to last for too long. However, re-corking with its original cork will certainly help, and don't forget, that an opened bottle of wine, provided it is correctly stored, is the perfect cooking accompaniment, with an old red being ideal for deglazing a pan or fortifying a pasta sauce, and can be kept for several months. 
Materials Used: Pewter
Weight: 20 g
Ref: CT0401000
Designer: Alberto Tabellini
100% Lead Free
All Cosi Tabellini Pewter is 100% lead-free, so it is totally food & drink safe, and is both EU and US FDA approved.
Packaging
Cosi Tabellini pieces come gift-boxed with a guarantee card and instructions on how to care for pewter.