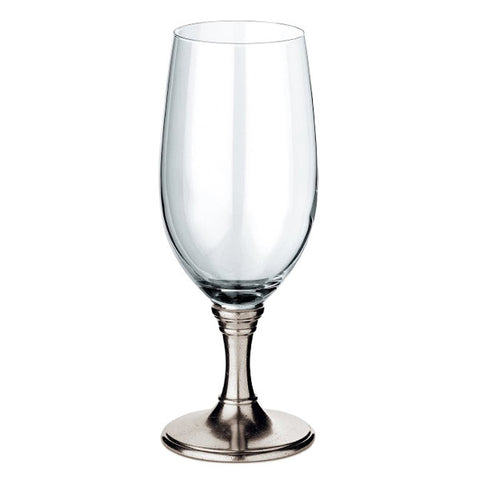 Botticino 'Cervoise' Beer Glass (Set of 2) - 55 cl - Handcrafted in Italy - Pewter & Glass
Choosing the right beer or ale glass is very similar to choosing a wine glass; there are a wealth of varieties and flavours to excite our palates, and there is a corresponding range of glass designs to best appreciate the drinking experience.  
These Botticino Cervoise beer  & cider glasses hold marginally under a pint of beer, but unlike the traditional nonic or shaker pint glass, the Cervoise glasses still look elegant when only partially filled, which makes them very versatile; in fact, as well as holding beer, they can also be used for serving water, soft drinks and iced tea.
The classic Cervoise glass is a sophisticated stemmed design that is perfect for enjoying a more refined beverage, such as golden ales, Belgian ales, lambic beers, saisons, barley wines and maibocks/helles bock beers.
Its large, curved bowl is perfectly shaped for head retention, bringing out the aroma and capturing the flavour of the beer held within.  The elegant pewter stem allows the drinker to hold the glass without hand-warming the contents, and the clever fusion of glass and pewter, creates a sophisticated look, enabling it to accompany other stemware at the dinner table without looking out of place. 
For those interested in etymology, the word cervoise is old French, and originally meant 'unhopped' beer, and was the general word for beer in France until the 15th Century, when the word for 'hopped' beer – biere – superseded it. Today in France, the word 'cervoise' is semantically limited to just barley beer.  Cervoise derives from the Latin word 'cervisia' (also known as cervesia in some manuscripts), which the Romans applied to an old Gallic drink made from wheat fermented with honey.  There is some conjecture as to whether the word 'cervisia' derives from the ancient Roman goddess of agriculture, Ceres, who was credited with the discovery of spelt wheat and from where the word 'cereal' originates from.
These Cervoise beer & cider glasses are complemented by many others within the Cosi Tabellini glassware range, each handcrafted by Italian pewterers; all high quality glass, with solid tactile pewter stems, to enhance your drinking experience.
Sold in pairs.
Size: Height 21 cm
Volume: 55 cl
Materials Used: Pewter, Glass
Ref: CT0098701
Designers: Enrico Cosi & Sergio Tabellini
100% Lead Free
All Cosi Tabellini Pewter is 100% lead-free, so it is totally food & drink safe, and is both EU and US FDA approved.
Packaging
Cosi Tabellini pieces come gift-boxed with a guarantee card and instructions on how to care for pewter.