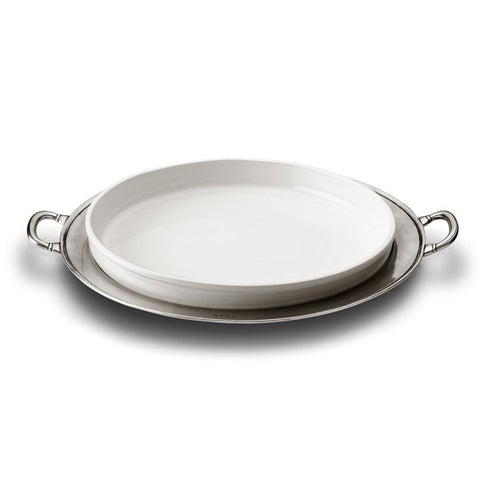 Convivio Round White Ceramic Platter - 48.5 cm Diameter - Handcrafted in Italy - Pewter & Ceramic
A super-sized solid pewter tray with handles, handcrafted by Italian artisans, and inlaid with a large white ceramic dish, is a unique and extremely useful and attractive addition to your kitchen.  The dish can be removed so that it, and the tray, can be used separately if you wish.
Buying as a gift? Why not make it even more special with our engraving service?
Hors d'œuvre, canapes, crudités, nibbles, call them what you will, but whichever term you choose, all manner of foods, from anti-pasti, fruit, vegetables, nuts and snacks look all the more appetising when served within this attractive platter.
For those interested in etymology, hors d'oevre simply means 'outside the main work', in other words not the main meal. The word canapé origniates from the French word for sofa, as the garnish sits on top of the bread, cracker, blini, like a person on a sofa. The word crudité derives from the Latin word crūdus which means "raw", which later became crūditās, meaning "undigested food", which evolved into the French word crudité, meaning "uncooked food".  
Whatever your preference, this platter is ideal for holding olives or sun dried tomatoes, or for dipping sauces for a plethora of cut and sliced raw vegetables, or less healthy dipping crisps and chips, the choice is endless. Or, simply use the dish as a large plate, or serving dish, to use with a main meal.
This platter complements the similar round Convivio pewter and ceramic platter; one with four dishes making up a circular inlay, looking great as a pair, or stand alone.
Size: Diameter 48.5 cm
Weight: 6450 g
Materials Used: Pewter, Ceramic
Ref: CT0152901
Designers: Alberto Tabellini & David Reiss
100% Lead Free
All Cosi Tabellini Pewter is 100% lead-free, so it is totally food & drink safe, and is both EU and US FDA approved.
Packaging
Cosi Tabellini pieces come gift-boxed with a guarantee card and instructions on how to care for pewter.