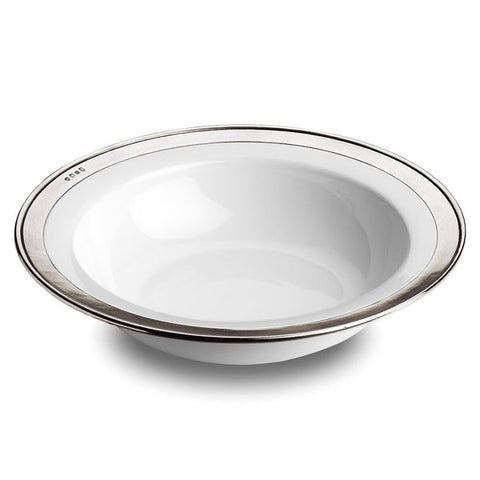 Convivio Serving Bowl - 39.5 cm Diameter - Handcrafted in Italy - Pewter & Ceramic
This handcrafted pewter and ceramic round serving bowl, part of Cosi Tabellini's Convivio collection, is something you will use all the time, such is its versatility.
Buying as a gift? Why not make it even more special with our engraving service?
Classic in shape and size, pewter and ceramic has been cleverly fused to produce a solid, crisp, yet characterful bowl, suitable for fine dining as well as more relaxed occasions. A simple just-picked green salad, delicate and fresh, or a hearty cauliflower cheese, browned and bubbled to perfection, or even a naughty muddle of flavour-flecked crisps, would all look great within this ample bowl. It is great for large families and gatherings, or just people with ample appetites!
There is a smaller version available also within the Convivio collection, which looks great side-by-side or stacked with this - the big brother - but equally good on its own.
The Convivio range is the result of an evolution in design, culminating in the clever merging of materials into a single product, utilising the natural characteristics of both pewter and ceramic; the execution of which is much more complicated than the elegant simplicity of the design concept.
Size: Diameter 39.5 cm
Weight: 2410 g
Materials Used: Pewter, Ceramic
Ref: CT0150601
Designers: Alberto Tabellini & David Reiss
100% Lead Free
All Cosi Tabellini Pewter is 100% lead-free, so it is totally food & drink safe, and is both EU and US FDA approved.
Packaging
Cosi Tabellini pieces come gift-boxed with a guarantee card and instructions on how to care for pewter.