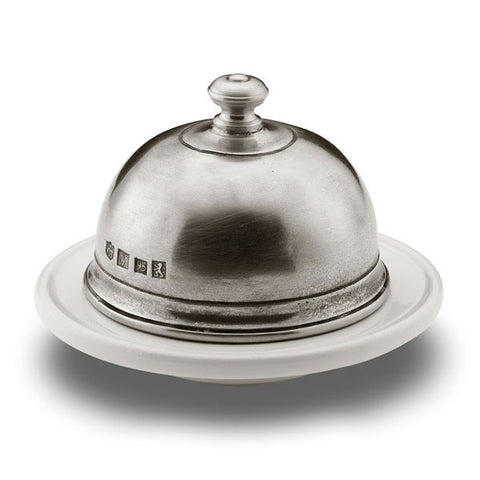 Convivio Round White Ceramic Butter Dome - 10.5 cm Diameter - Handcrafted in Italy - Pewter & Ceramic
This dainty round butter dome, the smaller twin of the bigger brother butter dome, looks great on a kitchen table or worktop and promises the indulgence of the age-old golden smooth taste of gorgeous butter - natural butter over processed margarine any day, everyday! 
Buying as a gift? Why not make it even more special with our engraving service?
The dome is handcrafted from Italian pewter and the base white ceramic; the style complementing other members of the Convivio range.
Butter has always symbolised good living, prosperity and wholesomeness across the millennia and across the planet, whether made from camel, water buffalo or cows milk. Butter is mentioned in the Bible, and is often described as a food fit for the Gods and as protection against evil spirits.
Butter storage has presented problems throughout history and differing climates, but one thing that has remained constant is the need to keep butter covered, whether that is packing it in barrels or crocks, or wrapping it in leaves or paper.  Butter achieved luxury status by the 19th Century as a result of its cost and perishability, and therefore it had to be served in a vessel special enough to befit the honour of holding such revered culinary golden indulgence and status. The Cosi Tabellini Convivio butter dish combines both functional and aesthetic qualities.
The little pewter dome is perfect for storing round butter pats, small amounts of butter for smaller gatherings or during periods of hot weather, and can also be used as a mini-cloche for a little serving - a mini 'ta-dah!!' moment.
Size: Diameter 10.5 cm x Height 7.5 cm
Materials Used: Pewter, Ceramic
Ref: CT0153501
Designers: Alberto Tabellini & David Reiss
100% Lead Free
All Cosi Tabellini Pewter is 100% lead-free, so it is totally food & drink safe, and is both EU and US FDA approved.
Packaging
Cosi Tabellini pieces come gift-boxed with a guarantee card and instructions on how to care for pewter.