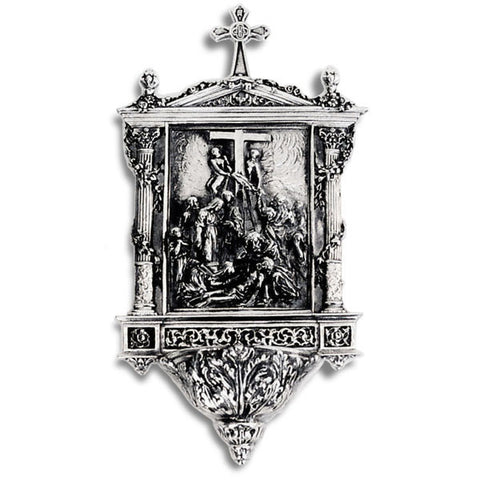 Deposizione Holy Water Stoup - 25 cm - Handcrafted in Italy - Pewter
This beautiful pewter holy water stoup is cleverly 'antiqued' by Italian craftsmen to create a gently aged surface with a soft patina. The entombment of Christ is a beautiful and reverent design.
Before entering the holy world of the temple, it was traditional that people must be cleansed through baptism. In a same way, whenever they entered church, they were invited to replicate this cleansing with holy water. Fountains were installed in the vicinities of ancient churches precisely for this purpose. Holy water stoups replaced fountains and, indeed, their shape is directly derived from them. They were first located outside the door, then in the atrium and, lastly, inside the church, near the entrance, and it is still common practice for Christians, especially Catholics, to anoint themselves on entry to 'bless' themselves. Some keep a little holy water at home, to bless their house...
No matter what your leanings, holy water stoups always look historical, vintage and sacred, and look great upon a wall especially at Christmas...
Size: 25 cm 
Materials Used: Pewter
Ref: CT02000200
Designer: Achille Gamba
100% Lead Free
All Cosi Tabellini Pewter is 100% lead-free, so it is totally food & drink safe, and is both EU and US FDA approved.
Packaging
Cosi Tabellini pieces come gift-boxed with a guarantee card and instructions on how to care for pewter.