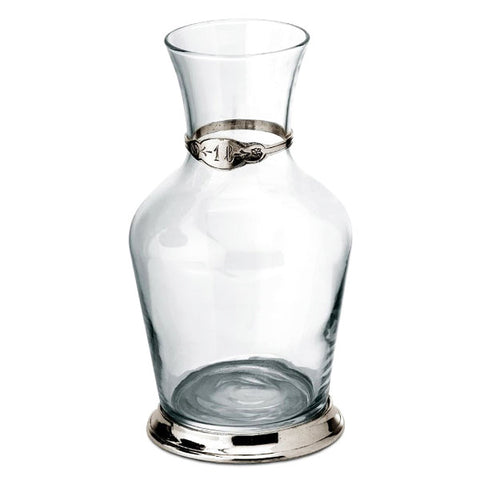 Francia Wine Carafe - 1L - Handcrafted in Italy - Pewter & Glass
This beautifully classic wine carafe of fused pewter and glass, handcrafted in Italy, is the perfect vessel within which to perform the important decanting process, ensuring your wine not only tastes good, but looks good too. It is the largest in a set of three.
Buying as a gift? Why not make it even more special with our engraving service?
Wine tastes better if it decanted, in other words, if it is exposed at length to the air before consumption, as this process softens the presence of tannins, which can give younger wines an astringent flavour. When the wine is poured into the carafe, the resulting agitation causes the wine to mix with oxygen, aerating the wine, so that the aromas and flavours will be more vibrant upon serving.
Decanting can also be used to remove sediment from aged red wines. The clear glass carafe also allows you to see the wine at its best, without obscuring the wine.
The carafe is also ideally suited to hold water. 
Size: Height 22 cm
Weight: 580 g
Volume: 1 L
Materials Used: Pewter, Glass
Ref: CT0094201
Designers: Enrico Cosi & Sergio Tabellini
100% Lead Free
All Cosi Tabellini Pewter is 100% lead-free, so it is totally food & drink safe, and is both EU and US FDA approved.
Packaging
Cosi Tabellini pieces come gift-boxed with a guarantee card and instructions on how to care for pewter.