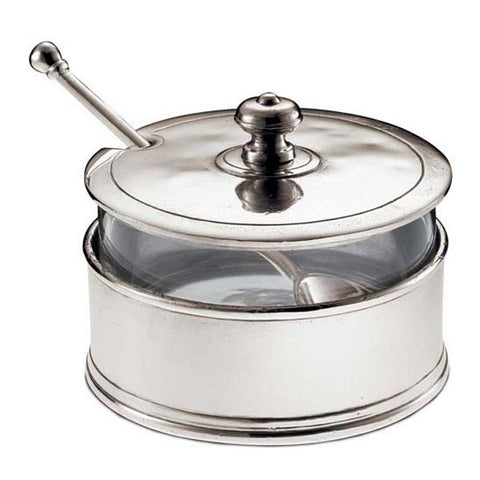 Genova Parmesan Dish (with spoon) - 11 cm Diameter - Handcrafted in Italy - Pewter & Glass
Complete with pewter lid and dainty Omnia spoon, this simple, yet stylish pewter enclosed glass dish, handcrafted in the clean-lined Genova style by Italian pewterers, is the perfect addition to any cheese lovers kitchen.
Buying as a gift? Why not make it even more special with our engraving service?
Parmesan, or Parmigiano-Reggiano to give it its proper title, originates from Italy's Parma region, and is one of the world's most popular and iconic cheeses. Only cheese stamped with the official Parmigiano Reggiano mark, as a guarantee of its origin, can be truly called Parmesan. 
Made with fragrant unpasteurised milk and carefully matured over a long period, anything from 18 to 48 months, Parmesan is a yellow, almost honey-coloured, hard grainy cheese with a crumbly texture and typically intense flavour - both tangy and piquant. Some would say that Parmesan perfectly embodies 'umami', the 'savoury' taste; one of the five basic taste types.
There are innumerable uses of Parmesan, beyond just grating over a classic bolognese sauce, which in its simplicity is divine; Parmesan shavings can be deliciously partnered with all kinds of salads, as well as used within cooking, for example a chunk of Parmesan within a simmering pot of minestrone soup transforms the flavour into something sublimely Italian.
This pretty, yet practical vessel is the authentic way of serving grated Parmesan, or in fact any other grated cheese that you may fancy, giving your dining table a classic twist.
Size: Diameter 11 cm x Height 9 cm
Materials Used: Pewter, Glass
Ref: CT0517801
Designers: Enrico Cosi & Sergio Tabellini
100% Lead Free
All Cosi Tabellini Pewter is 100% lead-free, so it is totally food & drink safe, and is both EU and US FDA approved.
Packaging
Cosi Tabellini pieces come gift-boxed with a guarantee card and instructions on how to care for pewter.