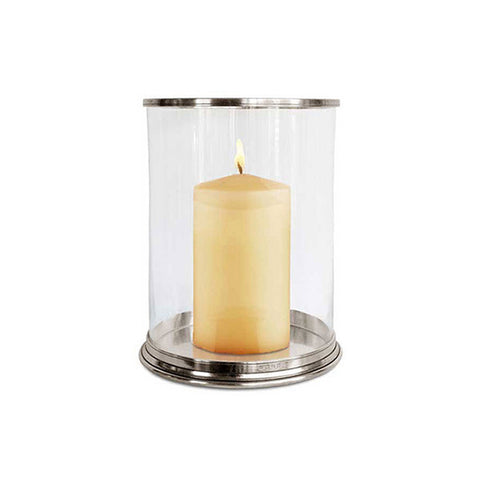 Irene Hurricane Lamp - 33 cm Height - Handcrafted in Italy - Pewter & Glass
Handcrafted by artisans in Italy, this beautifully simple middle-sized pewter and glass Irene Hurricane Light is perfect for burning pillar candles. The subtle pewter rim around the top of the glass protects the rim, as well as providing a pretty detail, together with a restful candle-light evocative of peacefulness, which is the origins of the name Irene in Greek.
Buying as a gift? Why not make it even more special with our engraving service?
Placing a candle in a hurricane is a safer option when placed in a high traffic area such as a coffee table in the middle of a living room, or buffet or other gathering, casting a warm and lovely glow for all to enjoy.
The origins of the hurricane, a flame surrounded by a glass guard to create a light shielded from drafts and winds, is said to date from 18th Century British India, where they were called "shades" or "India shades".  These were tall glass cylinders which stood on the table in which a candle or cocoa-nut oil lamp was placed. In the wine drinking days of British rule, it was considered a challenge, or forfeit, for men to drink a shade filled with claret!
It is speculated that the term "hurricane lamp" evolved as the shade became more popularly lit by paraffin instead of candle (paraffin being cheaper than candles), and calling it a "lamp" was more fitting, especially after the Swiss physician Francois-Pierre Aime Argand invented the Argand lamp, which became the standard for hurricane lamps. 
These days, the popularity for hurricane lamps lit by candles has meant the term is synonymous with candles once more.
This ornate, yet practical, lamp is one of a set of three within the Irene range.
Size: Height 33 cm, Diameter 26 cm
Materials Used: Pewter, Glass
Ref: CT0126901
Designers: Alberto Tabellini & David Reiss
100% Lead Free
All Cosi Tabellini Pewter is 100% lead-free, so it is totally food & drink safe, and is both EU and US FDA approved.
Packaging
Cosi Tabellini pieces come gift-boxed with a guarantee card and instructions on how to care for pewter.