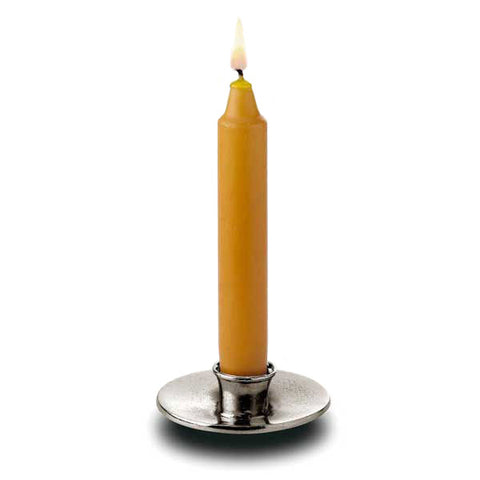 Lei Candlestick - 8.3 cm Diameter - Handcrafted in Italy - Pewter
The Lei ("her" in Italian) Candlestick, is one half of the "Lui" and "Lei" – "him" and "her" - candlestick collection from Cosi Tabellini. Each of the candlesticks are made of solid pewter, and are handcrafted artisans in our Lombardy workshop.
Buying as a gift? Why not make it even more special with our engraving service? 
Candlesticks have been documented since the ancient Egyptian and Cretan periods, but the word "candlestick" is thought to derive from the Saxon word "candelsticca", which was a piece of pointed wood which had a lump of fat with a wick placed in its middle stuck to it – so essentially a place to "stick" a burning candle. 
During the seventeenth century, candleholders made from a variety of metals, including pewter, silver, tin and iron, were developed for the home, either placed on pieces of furniture or fixed to walls.  
The Lei Candlestick, rounded and feminine in style, is of a very simple design, and is evocative of the simple, early candleholders.  The Lei Candlestick complements any design scheme, either on its own, or together with its "other half", transforming the atmosphere of a room with its soulful shining pewter and the candle's gentle, flickering light.
Size: Height 4.5 cm, Diameter 8.3 cm
Weight: 130 g
Materials Used: Pewter
Ref: CT0400301
Designer: Alberto Tabellini
100% Lead Free
All Cosi Tabellini Pewter is 100% lead-free, so it is totally food & drink safe, and is both EU and US FDA approved.
Packaging
Cosi Tabellini pieces come gift-boxed with a guarantee card and instructions on how to care for pewter.