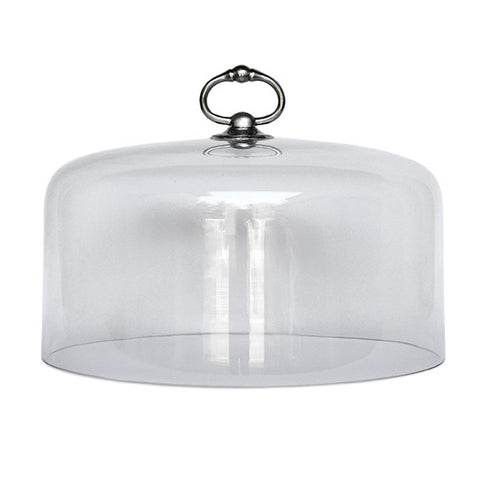 Loreto Cake & Cheese Cloche - 28 cm Diameter - Handcrafted in Italy - Pewter & Glass
Practical, attractive and dramatic, this 28 cm diameter pewter-handled glass cloche, in the Loreto range, is handcrafted in Italy by specialist craftsmen.  It is the non-identical twin to the 30 cm Loreto cloche.
It is perfectly qualified to display a pretty pile of cup cakes, a tumble of scones, or a majestic sponge - sitting solidly on top of the Toscana 35 cm Cake Stand (sold separately) - enhancing the treasures within, as well as protecting them from the ubiquitous housefly, or in fact, the ubiquitous family member, loitering around the kitchen, with serious intent!  
The attractive cover can be used as a cheese dome to cover a selection of unwrapped cheeses. Cheese stored under a cheese dome creates its own climate, ensuring a stable humidity, which is ideal for soft ripened cheese, such as Brie and Camembert, and washed rind cheese, such as Taleggio and Adrahan, which can be stored unwrapped.
Size: Diameter 28 cm
Materials Used: Pewter, Glass
Ref: CT0135401
Designer: Alberto Tabellini
100% Lead Free
All Cosi Tabellini Pewter is 100% lead-free, so it is totally food & drink safe, and is both EU and US FDA approved.
Packaging
Cosi Tabellini pieces come gift-boxed with a guarantee card and instructions on how to care for pewter.