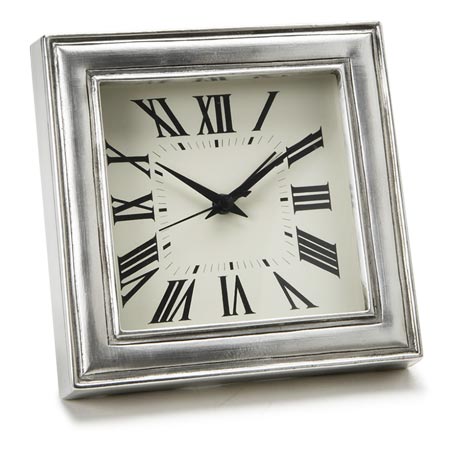 Lugano Square Alarm Clock - 12 cm - Handcrafted in Italy - Pewter
For your bedside table; a classic necessity, or a perfect gift for those who do, and those who don't, respect the medium of time!!
Buying as a gift? Why not make it even more special with our engraving service?
The former, always prompt, will appreciate it's timeliness and beauty; the latter, more often than not late, may despair at the need to be timely, yet cannot help but appreciate the beauty of the instrument.
With an efficient German movement encased within the romantic Italian crafted pewter, Cosi Tabellini craftsmen have created an object of useful beauty.
The history of clocks is part of the history of the measurement of time, of the various methods and instruments devised for this purpose: sundials, igneous clocks, water clocks, hourglasses, clepsammias and astrolabes. The Latin word horologium comprised all the instruments used to measure time. Mechanical clocks appeared after the others but rapidly replaced them.
Only recently have they been undermined by electric clocks and those based on the discoveries of atomic physics. Though research has been made into ancient timepieces and similar instruments to find clues to where and when the mechanical clock was invented, no conclusive elements have been found, although most scholars agree they were invented in the second or the third quarter of the thirteenth century.
Size: 12cm x 12cm

Materials Used: Pewter (Battery used -  LR1)
Ref: CT0376701
100% Lead Free
All Cosi Tabellini Pewter is 100% lead-free, so it is totally food & drink safe, and is both EU and US FDA approved.
Packaging
Cosi Tabellini pieces come gift-boxed with a guarantee card and instructions on how to care for pewter.