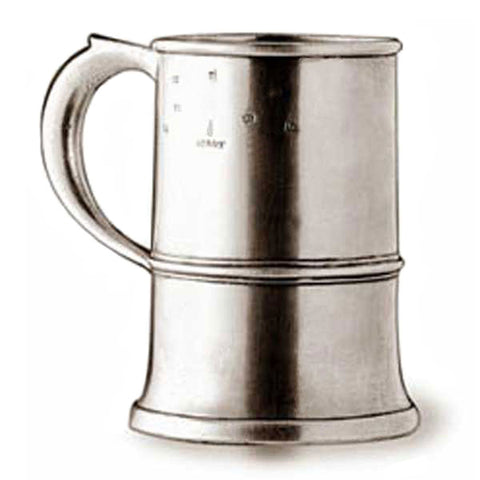 Normandia Tankard - 2 pint - Handcrafted in Italy - Pewter
This generous large pewter 2 pint beer tankard is the eldest brother of the three classic drinking vessels in Cosi Tabellini's Normandia range.  Each one is simply solid in design and construction, brimful of authenticity, subtly aged and soulful, handcrafted by Italian craftsmen, complete with imperial, no-nonsense measures.
Buying as a gift? Why not make it even more special with our engraving service?
The tankard has to be the archetypal drinking vessel down the centuries, in fact the millennia, as a 2000 year old wooden tankard of approximately four pint capacity has been unearthed in Wales.
Beer just tastes that much better out of a pewter tankard. Pewter is not a good conductor of heat, so cold beer stays cold, real ale stays at room temperature, and, unlike silver, pewter is extremely stable so doesn't impart any metallic taste, so you have the best of both worlds; an extremely attractive drinking vessel, without any compromise on taste - uniquely tasteful and yet at the same time tasteless.
Size: Height 16 cm
Weight: 850 g
Volume: 1/4 gallon
Materials Used: Pewter
Ref: CT0052101
Designers: Enrico Cosi & Sergio Tabellini
100% Lead Free
All Cosi Tabellini Pewter is 100% lead-free, so it is totally food & drink safe, and is both EU and US FDA approved.
Packaging
Cosi Tabellini pieces come gift-boxed with a guarantee card and instructions on how to care for pewter.