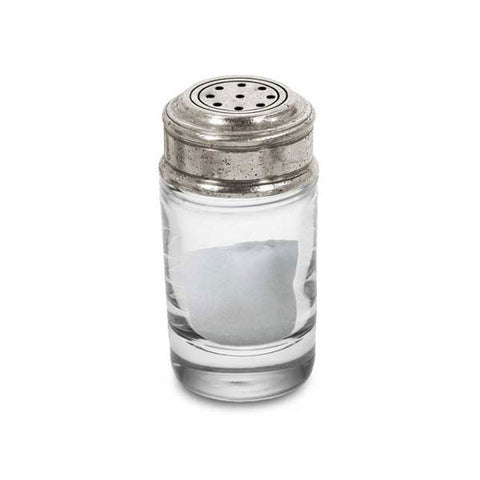 Palermo Salt Shaker - 8 cm Height - Handcrafted in Italy - Pewter & Crystal
Humble salt has long been an highly important product, not only is it an essential mineral within a healthy balanced diet – a sprinkle of ground sea salt in cooking, or upon ones food, is the simplest way of meeting this balance – it has been an invaluable way of preserving food down the millennia.
This elegant Italian pewter and crystal glass salt shaker will, together with the pepper shaker from the same Palermo range, form the perfect pairing of condiments on your dining table, ergonomically shaped to feel right within your grasp, with freely flowing tops to give you just the right amount of 'sprinkle' evenly over your food.
The transparent crystal glass enhances the simple natural beauty of the condiments themselves, making the mundane action of adding salt and pepper a more pleasurable one. 
Buying as a gift? Why not make it even more special with our engraving service?
Size: Height 8 cm
Materials Used: Pewter, Crystal Glass
Ref: CT0560431
Designer: Alberto Tabellini
100% Lead Free
All Cosi Tabellini Pewter is 100% lead-free, so it is totally food & drink safe, and is both EU and US FDA approved.
Packaging
Cosi Tabellini pieces come gift-boxed with a guarantee card and instructions on how to care for pewter.