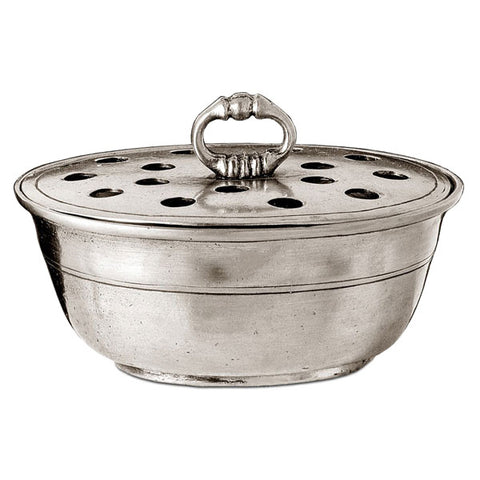 Pratolina Flower/Potpourri Holder - 12 cm x 10 cm - Handcrafted in Italy - Pewter
Perfect for the clever arranging of little stems, this pretty handcrafted flower holder from Northern Italy is made from solid pewter. It has a simple beauty that does not attempt to upstage the blooms, but to simply enhance and complement them.
Buying as a gift? Why not make it even more special with our engraving service?
Small posies, often lovingly picked and gifted by children, look especially delightful in this romantic little holder, with the subtly 'aged' pewter, complete with touchmarks from the craftsman responsible for its creation, perfectly suited to the natural beauty of the flora within, and the innocence and love from which the gift was borne.
This charming little vessel is also useful as a potpourri holder in a bathroom or bedroom; its perforated lid is just right for allowing the scent within to diffuse into the atmosphere. Being of modest proportions, it is perfect for a shelf or window cill. 
In France, since the 1600s, fresh flowers and herbs were gathered throughout the year. They were left for several days to go flaccid, and then layered with coarse sea salt. This concoction was stirred occasionally as more layers were added, and often the mixture would ferment during the heat of the summer. By the autumn, then, fragrant spices would be added to create pleasant fragrances sometimes coupled with specific repellent plants, for particular uses. For example; cedar, juniper or mugwort to repel moths; or lavender to repel scorpions.  Sometimes scent preserving fixatives were then added, most commonly orris root. The finished potpourri was set out in special pots with perforated lids to perfume rooms.  These days potpourris are more often synthetic, yet it is possible to make your own natural and traditional version.
Naturally scented plants used in traditional potpourri include:
allspice, cassia bark, cedar wood shavings, cinnamon bark, cloves, cypress wood shavings, fennel seed, jasmine flowers & oil, jujube flowers , juniper wood shavings, lavender leaves & flowers, lemon balm leaves & flowers, lemon peel, marjoram leaves & flowers, mignonette leaves & flowers, mint leaves & flowers, mugwort, orange peel, pinyon pine shavings & cones, rose flowers, hips, or oil and rosemary leaves & flowers.
Size: 12 cm x 10 cm
Weight: 330 g
Materials Used: Pewter
Ref: CT0084801
Designers: Enrico Cosi & Sergio Tabellini 
100% Lead Free
All Cosi Tabellini Pewter is 100% lead-free, so it is totally food & drink safe, and is both EU and US FDA approved.
Packaging
Cosi Tabellini pieces come gift-boxed with a guarantee card and instructions on how to care for pewter.