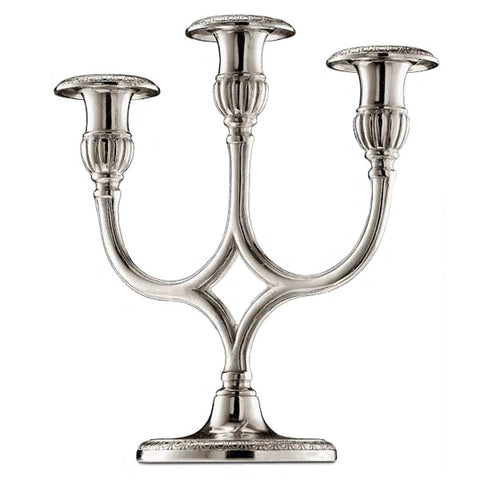 Roma 3 Flame Candelabra - 25 cm Height - Handcrafted in Italy - Pewter
The hand-crafted solid pewter Roma 3 Flame Candelabra is faithful to classical design, simple, solid and yet exquisitely elegant.
Italian craftsmen carefully cast, decorate and polish each candelabra, to ensure each would be worthy of a place in a discerning home, whether on the dining room table, mantel, or piano.  
Candelabra have been found dating back to 400 BC.A multitude of candelabra excavated in Pompeii in Italy would suggest they were a common form of household decoration.The Romans, developing Hellenistic precedents, made candelabra of great decorative richness. The Etruscans also produced a large number of candleholders, especially from the seventh century on. In the Middle Ages, candlesticks were almost exclusively used for sacred functions.
There were two main types: the first revived and simplified ancient bronze candlesticks and was placed on the altar; the second type continued the tradition of marble Roman candelabra. During the Gothic period, candlesticks were given new shapes copied from architectural elements and featured thin membrane overlays. 
Buying as a gift? Why not make it even more special with our engraving service?
With the advent of the Renaissance age in the sixteenth century, candelabra became real and proper art objects, richly decorated sculptures. During the seventeenth century, candleholders were developed for the home. They could be placed on pieces of furniture or fixed to walls. In the eighteenth and nineteenth centuries, candelabra with several arms became popular as they could hold a larger number of candles. In the nineteenth century, particularly during the Neo-classical period, these candelabra were extremely elegant and richly decorated, though they did betray a certain restraint.
The Roma collection of candelabra by Cosi Tabellini includes a range of candle holders of varying heights and amount of flames, providing different moods of lighting – the shiny surface of pewter increasing the available light by reflecting the flames - ensuring that your chosen presentation creates ambience and romance for an intimate dinner or drama for a lavish dinner party.
Size: Height 25 cm
Weight: 1180 g
Materials Used: Pewter
Ref: CT0524001
Designer: Alberto Tabellini
100% Lead Free
All Cosi Tabellini Pewter is 100% lead-free, so it is totally food & drink safe, and is both EU and US FDA approved.
Packaging
Cosi Tabellini pieces come gift-boxed with a guarantee card and instructions on how to care for pewter.