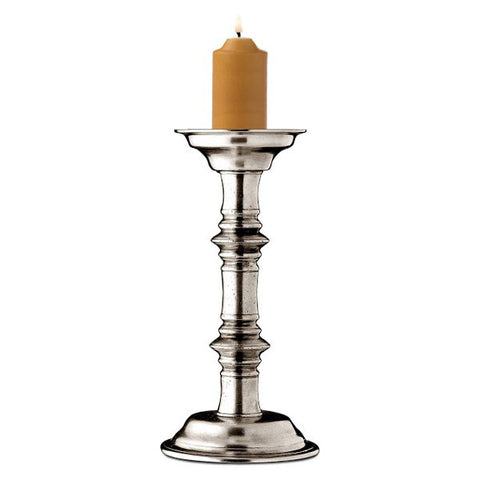 San Paolo Pillar Candlestick - 27 cm Height - Handcrafted in Italy - Pewter
Made from solid pewter by artisans in Italy, the elegantly hand-crafted San Paolo Pillar Candlestick is the perfect holder for pillar candles. 
Buying as a gift? Why not make it even more special with our engraving service?
The defining character of the pillar candle is its simplicity, wide enough to be free-standing, and its simple design – tall and straight – a reflection, perhaps, of its association with religious faith, where the candle was a symbol of dispelling the darkness of night, and an everlasting dawn pervading the Universe.  
Pillar candles are a popular choice of candle in the home today; the allure of the dancing flames and aromas from modern, scented pillar candles, and their longevity, where they can be burned for an extended period of time, ideal in the event of power outage or simply for the special ambience this form of natural lighting creates, makes the pillar candles a sought-after choice of lighting and a delightful reminder of its simple origins. 
The charm of the San Paolo Pillar Candlestick is its elegant form; its wide holder to seat and stabilize the tall candle and to catch any wax, therefore, highly practical, and yet the perfectly placed flame, around quarter of a metre above ground level, exudes a stylish yet age-old ambience to any home, looking great as matching pairs, stand alone or when complementing Cosi Tabellini's related offering, the taller Siena pillar candlestick.
Size: Height 27 cm
Materials Used: Pewter
Ref: CT0083601
Designers: Enrico Cosi & Sergio Tabellini 
It is possible to personalise this product - please see price options and then add details at Checkout.
100% Lead Free
All Cosi Tabellini Pewter is 100% lead-free, so it is totally food & drink safe, and is both EU and US FDA approved.
Packaging
Cosi Tabellini pieces come gift-boxed with a guarantee card and instructions on how to care for pewter.