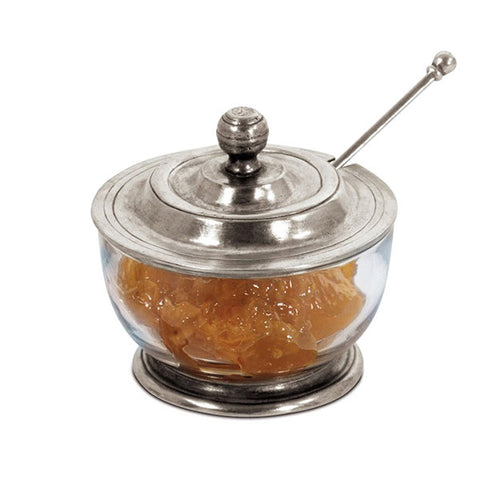 Siena Jam Pot (with spoon) - 11 cm Diameter - Handcrafted in Italy - Pewter & Crystal
Hand crafted in Italy, this special little vessel, complete with little pewter Omnia spoon and pewter lid for freshness, lifts a simple sweet pleasure of nature's berry bounty artfully transformed into a year-long treat; jam, to a whole new level - grown-up jam sandwiches!
Buying as a gift? Why not make it even more special with our engraving service?
The solid pewter base fused with crystal glass creates a most attractive vessel for serving jam, or marmalade for that matter, at breakfast with toast or croissants or at tea-time with scones.
Jam also known as 'preserves', 'conserves' (often with whole fruits) or 'jellies' (from French 'gelee' – to congeal, most often sieved to produce a clear mixture) is the most famous of all the fruit preserves, and can be termed confit-making from the French verb to preserve 'confire'.  It is thought to have originated from the Middle-East, where can sugar grew natively, and there is evidence that 1st Century Romans were using jams in their cooking, as the Romans were very keen on fruit, using in most meals, with influences from North Africa and the East. 
It is likely that the 12-14th Century Crusaders brought jam back to Europe, and it was very popular by the late Middle Ages.  Medieval European recipes often used cooked fruit within courses of meat and fish, as ancient physicians warned of the eating certain fruits raw or in a particular order, as they were strangely wary of some fruits, for example apples and pears were treated with caution, as they were hard, whilst holding others in awe, for example fruits growing higher, nearer heaven, were held in higher esteem, and kept for the higher social classes than those growing closer to the ground. 
Following European exploration and colonisation of the West Indies and the introduction of sugar into the European palate and pantry, jam-making began properly in Britain in the 16th Century, slightly later than some other Southern European countries, such as Spain, whilst the Arabic and Caribbean civilisations had been using sugar to preserve fruits for generations. 
Tudor monarchs were especially keen on jams, with a wide variety available, including deliciously historic sounding quince (early marmalades) and medlar jellies, dry sweetmeats or quidonies (like crystallised ginger) and wet sweetmeats or sucket( a cross between candied peel and jam – which is still produced in the Northern Aegean), more unusual for today's palate.  Louis XIV was also very partial to fruit preserves served in silver dishes at the end of a feast, sourced from the King's own gardens and glass-houses at Versailles. Often banquets ended with a candied fruits or jams to 'close' the stomach and aid digestion, the cooking in honey or later sugar removed the fear of 'raw' fruit, as apothecary and confectionery blurred. 
In the USA, New England settlers preserved fruits with honey, molasses or maple sugar and apple paring supplied the pectin necessary for the setting process. The first documentation of the term jam appear around the late 17th and early 18th centuries, most notably M Eales's cookbooks, folklore insists this is derived from the French "j'aime", meaning "I love (it)", the children's usual response on tasting.
Of course, it doesn't have to be jam within.  The easy-wash glass pot means that all manner of condiments, from mustard to mint sauce, chilli sauce to children's favourite ketchup can be served - as well as sugar - depending upon the meal.
Size: Diameter 11 cm, Height 10.5 cm
Materials Used: Pewter, Crystal Glass
Ref: CT0095601
Designers: Enrico Cosi & Sergio Tabellini
100% Lead Free
All Cosi Tabellini Pewter is 100% lead-free, so it is totally food & drink safe, and is both EU and US FDA approved.
Packaging
Cosi Tabellini pieces come gift-boxed with a guarantee card and instructions on how to care for pewter.