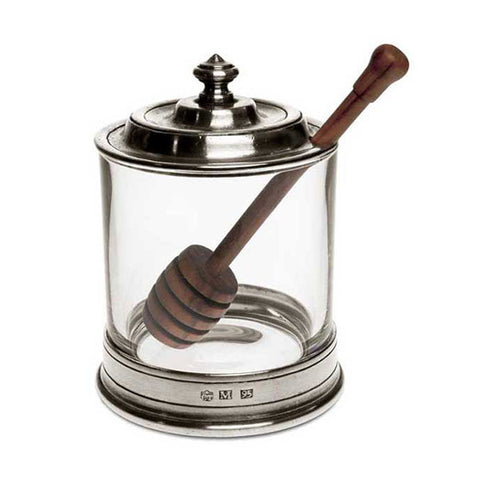 Sirmione Honey Pot (with twizzler) - 12.5 cm Height - Handcrafted in Italy - Pewter & Crystal
Part of Cosi Tabellni's popular Sirmione range of pewter & crystal glasswares, this pretty pewter and crystal lidded honey pot, handcrafted in Italy, is a delight from which to serve honey, be it at the table for toast, crumpets, and drizzling on breakfast cereals and yoghurt, or beside the kettle for adding sweetness to hot drinks, teas, fruit & herbal beverages, and even hot toddies.
Buying as a gift? Why not make it even more special with our engraving service?
The dainty little pot comes complete with a wooden twizzler for serving, and a pewter lid for freshness. This special little vessel lifts the naturally sweet treasure of hallowed honey - the busy bee's bounty simply transformed into a year-round treat - to a whole new level. Who can resist the achingly languid drip of golden, fragrant honey from the twizzler to butter-oozing toast, or chilled tartness of natural yoghurt?
All over the planet, the humble honey bee busies itself with a singular purpose, perpetuation of the hive. Highly organised work-forces operate together with seamless efficiency collecting pollen and nectar for their micro-industry, creating, by a process of regurgitation and then evaporation, the magical elixir honey, which will sustain the colony - most importantly feeding the omnipotent queen and her offspring - throughout the year, especially in the cold dark months of the flowerless winter. 
Humankind, for over 8000 years, has harvested this amazing natural product, using it for culinary, medicinal and even cosmetic uses. Honey has huge symbolism within most religious thought, and it is truly a universal ingredient that nearly every continent and culture upholds as special.
Of course, this little pot doesn't have to be restricted to serving just honey.  The easy-wash crystal glass pot means that all manner of condiments, from mustard to mint sauce, chilli sauce to children's favourite ketchup can be served, simply by changing the twizzler for a spoon. Cosi Tabellini offer a range of pretty little spoons which complement this pots' small and stylish stature.
Size: Height 12.5 cm
Volume: 42 cl
Materials Used: Pewter, Crystal Glass
Ref: CT0119551
Designer: Alberto Tabellini
100% Lead Free
All Cosi Tabellini Pewter is 100% lead-free, so it is totally food & drink safe, and is both EU and US FDA approved.
Packaging
Cosi Tabellini pieces come gift-boxed with a guarantee card and instructions on how to care for pewter.