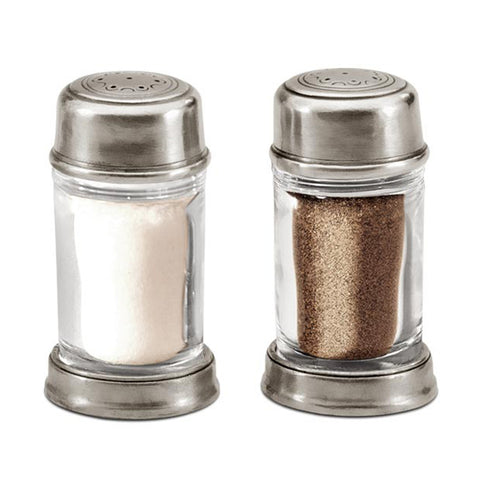 Sirmione Salt & Pepper Shaker Set - 9 cm Height - Handcrafted in Italy - Pewter & Glass
Both salt and pepper have from time immemorial been highly valued commodities; traded, smuggled, sold and bartered far across the world. This elegant Italian pewter and glass shaker set will form the perfect pairing of condiments on your dining table, ergonomically shaped to feel right within your grasp, with freely flowing tops to give you just the right amount of 'sprinkle' evenly over your food.
Deeply embedded in our universal consciousness as both vital and yet everyday, the condiments salt and pepper go together like… salt and pepper – they are a natural pair.
The attractively 'aged' pewter encasement provides a 'just right' weight to each shaker, whilst transparent glass enhances the simple natural beauty of the condiments themselves, making the mundane action of adding salt and pepper a more pleasurable one.
Size: Height 9 cm
Materials Used: Pewter, Glass
Ref: CT0140401
Designers: Alberto Tabellini
100% Lead Free
All Cosi Tabellini Pewter is 100% lead-free, so it is totally food & drink safe, and is both EU and US FDA approved.
Packaging
Cosi Tabellini pieces come gift-boxed with a guarantee card and instructions on how to care for pewter.