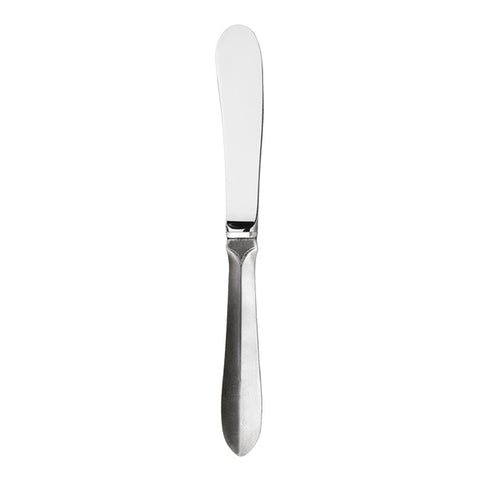 Sofia Forged Butter Knife - 18 cm Length - Handcrafted in Italy - Pewter & Stainless Steel
This pretty butter knife is hand-made from pewter and stainless steel, both produced in Brescia, Lombardy, and fused by Italian artisans to combine strength and an ergonomic design.
Bringing satisfaction to the simple task of buttering bread, this gorgeous knife, with a dull blade perfect for slicing through soft or hard butter, and a widened tip for transferring butter to hot toast, for example, is both stunning to hold and behold.
Buying as a gift? Why not make it even more special with our engraving service?
The Sofia Forged Butter Knife complements a full range of flatware available in Cosi Tabellini's popular Sofia  collection, as well as other butter-related storage items.
The pewter handles of Cosi Tabellini cutlery are made using a special technique: the molten pewter is directly cast onto the steel tips of the cutlery; this process forms what is really a single element in which the "hardness" of the steel discreetly dissolves into the "soft" surface of the pewter handle, more suitable for contact with the hands.
Size: Length 18 cm
Materials Used: Pewter, Stainless Steel
Ref: CT0371021
Designer: Alberto Tabellini
100% Lead Free
All Cosi Tabellini Pewter is 100% lead-free, so it is totally food & drink safe, and is both EU and US FDA approved.
Packaging
Cosi Tabellini pieces come gift-boxed with a guarantee card and instructions on how to care for pewter.