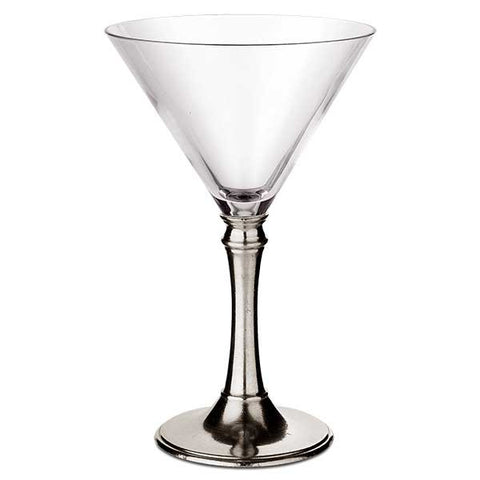 Tosca Martini Glass (Set of 2) - 21 cl - Handcrafted in Italy - Pewter & Crystal
Classic Martinis are legendary drinks, be they made with vodka or the more traditional gin, served with olive or a twist, and either shaken, à la Bond, or stirred, these iconic drinks deserve equally iconic vessels; the Cosi Tabellini Tosca martini cocktail glasses are just those, combining the charm and solidity of pewter, with the shine of the crystal.
Buying as a gift? Why not make it even more special with our engraving service?
The classic shape of these cocktail glasses is both aesthetic and functional; the wide mouth enhances the taste of the drink, especially the aromatics of a vermouth and gin mixture, as well as showing off the garnish, the classic green olive in the case of the classic Martini, but other classic cocktails served without ice, such as Manhattans and Cosmopolitans, can also be served authentically in this glass.
The conical shape prevents the drinks from separating and the long stylish pewter stem means that body heat from ones hands is kept away from the chilled liquid.
Popular legend adds that during the days of prohibition in the 1920s and 1930s United States, the wide mouth enabled an illegal alcoholic drink to be rapidly 'spilled', and thus absolving the individual and establishment of any crime, if a police raid occurred.
Sold in pairs.
Size: Height 17.5 cm
Volume: 21 cl
Materials Used: Pewter, Crystal Glass
Ref: CT0121101
Designer: Alberto Tabellini
100% Lead Free
All Cosi Tabellini Pewter is 100% lead-free, so it is totally food & drink safe, and is both EU and US FDA approved.
Packaging
Cosi Tabellini pieces come gift-boxed with a guarantee card and instructions on how to care for pewter.