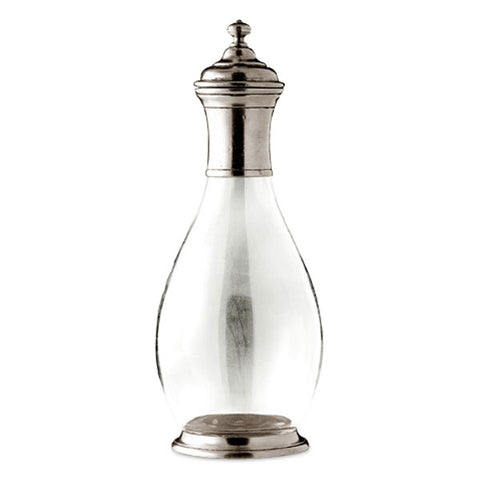 Velletri Decanter - 1 L - Handcrafted in Italy - Pewter & Glass
The elegant Velletri Decanter is faithfully modelled on classic Italian decanters of centuries past.   The aged patina of the handcrafted Italian pewterwork gives the decanter a sense of refinement and theatre when pouring wine. 
Buying as a gift? Why not make it even more special with our engraving service?
The process of decanting has ancient origins, when wine was drawn off from a barrel and carried to the table in a pitcher. The uncorking and decanting of a bottle of wine, the more conventional image of decanting, has played a significant role in medieval Italian households and carried out with an almost ritualistic attention to detail, and the exacting procedure is still followed to this day. 
Decanting was historically important to separate clear wine from sediment that had built up after extended aging, and to open-up the wine, making it rounder and richer, after being exposed to air - some would say a decanted wine opens up like a rose in bloom.  
The topic of which wines benefit from decanting is very complex, but as a general rule, the majority of wines benefit from being decanted, irrespective of their price. Maximum impact is achieved when exposing younger, vigorous wines to air, and such wines can benefit from being decanted many hours, or even a day, before serving; this applies to most wines that we drink today.  Older, more fragile wines with a delicate fragrance still benefit from being decanted, but for only fifteen or twenty minutes before serving, as they lose their character more quickly.
There is one further benefit from using the Velletri decanter, and that is places the emphasis on the wine itself, rather than the label on the bottle, and it is guaranteed that wine lovers won't be able to take their eyes, and their palates, off it.
Size: Height 28 cm
Weight: 610 g
Volume: 1 L
Materials Used: Pewter, Glass
Ref: CT0104341
Designer: Alberto Tabellini
100% Lead Free
All Cosi Tabellini Pewter is 100% lead-free, so it is totally food & drink safe, and is both EU and US FDA approved.
Packaging
Cosi Tabellini pieces come gift-boxed with a guarantee card and instructions on how to care for pewter.